Zip Preview: User Guide
Main window
Open a Zip File
Extract files from the Zip file
Clipboard Monitor

---
Main window
The diagram below shows what each of the buttons on the toolbar is used for.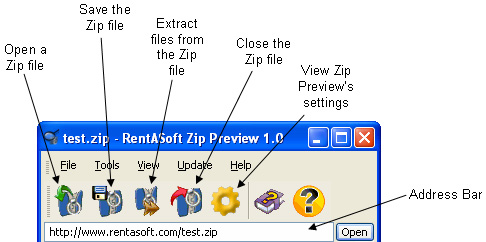 ---
Open a Zip File
To open a zip file, copy the address of the zip file into the address bar and click open.
If you would like to open a zip file via FTP, click on the File menu then Open Remote Zip File. You can then enter the address of the zip file and your username and password, once you have entered those details click on the OK button.
---
Extract files from the Zip file
This option allows you to extract all / or some of the files from within a online zip file. You will be able to choose where you would like these files to be saved on your computer.
---
Clipboard Monitor
Zip Preview has a clipboard monitor; this means that if you copy an address to a zip file, Zip Preview can either:
Open the zip file automatically.
Show a popup at the bottom of the screen asking if you would like to open the zip file.
Do nothing.
To change how Zip Preview clipboard monitor works, view Zip Preview settings.